Your last-minute room for Rugby World Cup 2023 matches at VILLA VILLA LOUIS
– September 9 (Ireland – Romania): SOLD OUT
– September 10 (Wales – Fiji): SOLD OUT 
– September 16 (Samoa – Chile): SOLD OUT
– September 17 (South Africa – Romania): SOLD OUT
– September 30 (Fiji – Georgia): still some availability
This is your last chance to find THE room you need for your stay!
France: host country of the Rugby World Cup 2023
The Rugby World Cup will take place from September 8 to October 28, 2023 in France. This sporting event, which takes place every 4 years, is a highly anticipated event by all rugby fans around the world.
This year it is France that has been designated for the second time (last in 2017) as the host country and fans from all over the world will gather in France to celebrate the event.
Bordeaux will host 4 Rugby World Cup 2023 matches, which will be held at the Matmut Atlantique stadium. With a capacity of 42,000 people, the stadium will welcome a large number of fans during these matches:
– September 9: Ireland – Romania
– September 10: Wales – Fiji
– September 16: Samoa – Chile
– September 17: South Africa – Romania
– September 30: Fiji – Georgia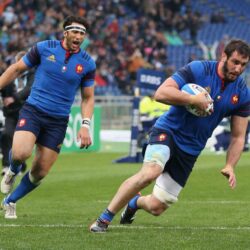 Bordeaux : a sporting city
Moreover, during the whole World Cup, a Rugby Village will be installed in Bordeaux. The Village, designed as a festive and friendly place, will welcome all the supporters, whether they live in Bordeaux or are just passing through.
Far from wearing its nickname "the sleeping beauty" Bordeaux is a city that has hosted many sporting events in recent years such as the Rugby World Cup in 2017 or the UEFA Euro 2016.
Where to stay during the Rugby World Cup 2023 ?
Villa Victor Louis is the perfect place for your stay during the Rugby World Cup.
Located in the heart of the city of Bordeaux, you will have easy access to transportation to reach the stadium where all the matches will take place. You will also be able to access the Rugby Village, where each match will be broadcast on a giant screen.
Villa Victor Louis is also perfectly located to reach the center of the city and the festivities that accompany a world sporting competition.
After a hectic day, Villa Victor Louis will offer you the calm you need. Rest in your room, or spend some time in our common areas or in our beautiful garden.
Our team will remain at your disposal throughout your stay in order to answer each of your requests and to advise you as well as possible on the restaurants and monuments to see in Bordeaux.
We will be pleased to welcome you during this great event : www.villavictorlouis.com